MEDIA RELEASE - 27 MAY 2016
QUALIFYING COMPLETE FOR ISLAND 4 HOUR
Grant Sherrin has topped qualifying for tomorrow's Australian Production Car Series Island Four Hour – the 2016 season opener - after setting the fastest time this afternoon.
Sherrin set a 1m 44.8721 second lap in the #1 Sherrin Rentals Racing BMW135i he shares with brother Iain to be fastest both outright and in Class (Class B). Second outright and fastest for Class A was Beric Lynton, who is sharing his #23 Bruce Lynton Prestige Autos BMW1M, with a 1m 45.1492s lap ahead of Stu Kostera – co-driver for Tony Alford in his Donut King Audi TTRS (1m 45.1810s).
Fourth and fifth fastest outright were fellow Class A entrants Paul Morris (with Luke Searle, Roadchill Freight Express BMW M135, 1m 45.2718s) and Mark Eddy (with Dean Grant, Network Clothing Audi TT RSm 1m 47.2718s).
Fastest for Class C and sixth outright was George Karadimas, who is driving the recently upgraded Karadimas Motorsport/Australian Auto Wreckers Ford XR6 Turbo Sprint with Geoff Russell (1m 49.5265s) while Class D was led by Andrew Turpie in the newly-liveried Pedders Racing Toyota 86 (1m 53.5080s) he shares with Grant Phillips.
For Class E, Michael Hopp lead the way in the Hare Motorsport/Declan Kirkham Racing/Inertia Apparel Mazda Eunos 30X he will share with very late inclusion Madison Gray tomorrow, with a 1m 57.8519s effort.
The race grid for Saturday's Island Four Hour will be set once each team nominates their starting driver.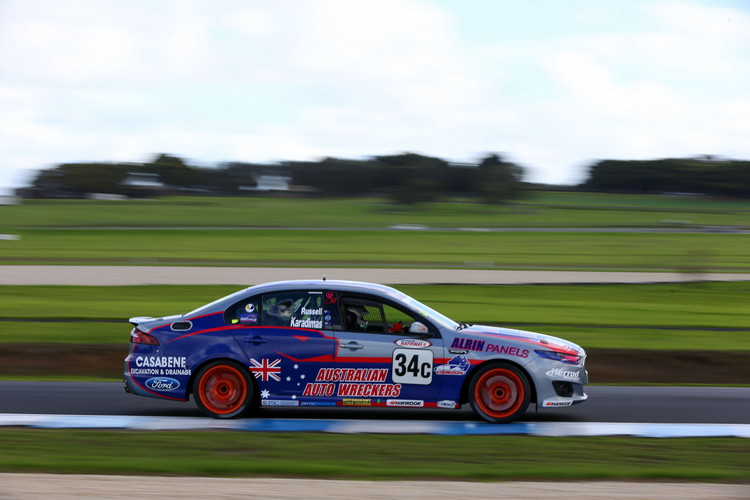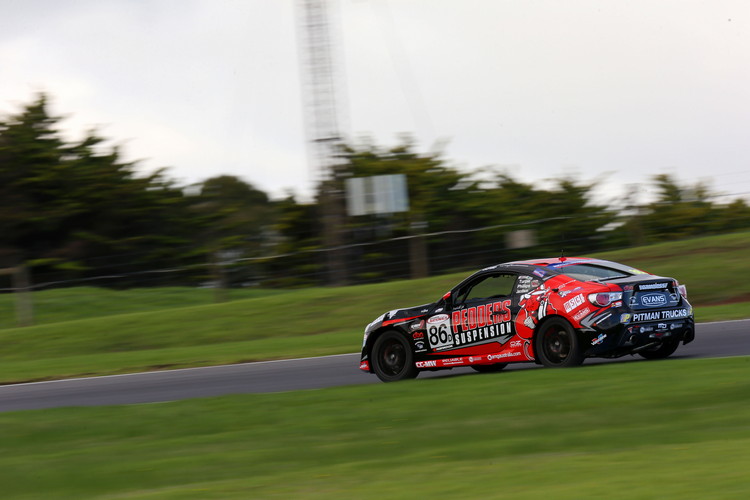 After starting with 22 cars and 46 drivers earlier today, the first race of 2016 will host just 21 cars after Steve Hodges had an unfortunate incident in the Hi-Tec Oils Holden CSV Mondo GT he was sharing with Rob Coulthard.
While the entry will take no further part this weekend, Hodges was seen by on-track medical staff and discharged back to his crew in reasonably good spirits given the fact his car is now closer in length to a Suzuki Swift (as he puts it).
The incident occurred when Hodges put the right rear tyre just off the track on the entry to the straight during the second practice session for the category. This saw him speared across the track in to the concrete wall, before being propelled back across the track and onto the grass as Osborne Motorsport driver Rick Bates took evasive action. For footage of the incident, click here.
The Island Four Hour festivities kick off tomorrow (Saturday) at 10.50am with a 10 minute warm-up, before four hours of racing start at 1.00pm. All of Saturday's action will be broadcast live and free thanks to the Shannons Nationals, with the Australian Production Cars website to host the feed on its home page across the day.
QUOTEBOARD: TOP QUALIFIERS FOR EACH CLASS, APCS, ISLAND FOUR HOUR – PHILLIP ISLAND GRAND PRIX CIRCUIT
Grant Sherrin - #1 Sherrin Rentals Racing BMW135i
"I am pretty happy with that, which is probably the quickest lap I have done in qualifying. The car felt really good, it was nice and dry for once, so we were able to get some temp into the tyres and do some good laps. Tomorrow we will start from number one and just see how we go from there - try and finish the race and be there at the end and hopefully we can take it home."
Beric Lynton - #23 Bruce Lynton Prestige Automotive BMW1M
"It's a good time, without looking I think it is the best time I have done in the car around here, I think Tim (Leahey – Beric's regular co-driver) has gone quicker a couple of years ago, but certainly it was about half a second quicker than last year and maybe a bit more, so that is good and I have got to be happy with that. I am a bit disappointed we didn't get p1 but at the end of the day we are on the front row and it is a long race so we will put Aaron in the warm up and see what happens tomorrow."
George Karadimas - #34 Karadimas Motorsport/AAW Ford Falcon XR6 Turbo SprinT
"The car is good, we have put together a good team - two weeks ago Geoff and I weren't going to run so to put the car together and come up here has been a good effort by everyone. We had a few issues with a vibration we are chasing in the car today, but the car overall has a lot more in it. The car is quick, it feels comfortable, I am very happy with it – I didn't think I had a pole in it, I was just cruising around so I was actually surprised when it came up on the dashboard."
Andrew Turpie - #86 Pedders Racing Toyota 86
"It was really good, it was a good lap considering that the practice sessions were quite drizzly and very slick, so it was very tough to set the car up for dry conditions when we were mainly driving in the wet. Overall it was pretty good and I am very pleased. The car is feeling really good. When it gets pushed, it is very quick. I think we should be able to maintain a similar lap time for the duration of the race and if strategy falls our way and we don't have any untoward safety cars we will be looking strong."
Michael Hopp - #55 Hare Motorsport/Declan Kirkham Racing/Inertia Apparel Mazda Eunos 30X
"This is the first time I have driven the car – the third practice session was my first drive out there. Those greasy conditions made it really difficult, so I didn't know what to expect. I just slowly got myself into a groove and just went out there and tried to get some consistent laps and get in a bit of a rhythm. It is fantastic. I was pushing pretty hard to try and get a lap time for qualifying, so tomorrow we will just look at backing off to take it easy and see how we go - knowing we have a bit of speed up our sleeve we can turn it on and off when we want, so that will be key - just keeping a steady pace, try and maintain a lead and build a gap for the pit stops if we can, and see what happens."
For more on the APCS, please visit https://www.facebook.com/AustralianProductionCars/ or contact Iain Sherrin of Ontic Sports on 0422 449 446 or at iain@onticsports.com.au
For media enquiries, please contact:
Amanda Jackson
Media Manager – Australian Production Car Series
Phone: 0421 378 789
Email: amanda@jigsawcomms.com.au