Media Release - 4 May 2016
21 CARS FOR APCS OPENER WITH ENTRIES STILL OPEN
With entries still open, the Australian Production Car Series already has 21 entrants secured for its season opening Island Four Hour at the Phillip Island Grand Prix Circuit later this month (May 27-29).
Entries close on the 9th of May, and category manager Iain Sherrin says he expects to receive more entries before that deadline for what will be the biggest production car series entry list hosted in some time.
"At this moment, we have 21 entry forms lodged, but I know of at least another five that are looking to have their entries in by the deadline, and then we have a number of others on top of that who are considering taking part either at round one or later in the year," said Sherrin.
"I expect to have 25 racers on-track with us at Phillip Island, and for that number to grow throughout the year – it truly is an exciting time for the APCS."
For a look at the current entry list, please read on. One category in particular Sherrin is working hard to grow is the Production Invitational class.
"The Production Invitational class is able to give those production-based entries that were built for a specific category like the Mini Challenge or one-off races like the Australian Grand Prix Celebrity Race or the Bathurst 12 Hour a permanent home," said Sherrin.
"In the past, those racing in the Invitational class were not awarded round wins or class championship points – we have changed that so that they now can compete for class honours within the APCS.
"There are 15-20 Mini Challenge cars out there that we know of, a number of ex-GP Celebrity Race cars and a whole host of 12 hour racers – the potential for this class to boast up to 20 entries on its own in the future are very real as we get the word out about just who is eligible for this category that now has its own class championship."
In Class A (Extreme Performance), Tony Alford will lead the way in a brand new Donut King Auti TT RS after taking out the 2015 Class A title in a BMW1M in 2015 from Beric Lynton, who will also be hitting the track at Phillip Island in his Alphera Financial Services BMW1M. Alford will be joined in his new steed by top production car racer Stu Kostera.
Also campaigning an Audi TT RS will be Mark Eddy, who will bring campaign his Network Clothing Audi TT RS with experienced GT and Porsche racer Dean Grant, while Luke Searle, Barry Graham and V8 Supercar identity Paul Morris will run a BMW M135i.
In Class B (High Performance) the formidable Sherrin Racing outfit will be back and looking to continue the success they found in 2015. After coming so close in 2014, last year saw the team clean up with Grant Sherrin taking out the outright championship, Class B championship and the Class B Australian Endurance Championship, while the team took out the Teams Championship.
The team's line-up will remain unchanged, with brothers Grant and Iain to take the wheel of the #18 Sherrin Rentals Racing BMW135i while their father Michael Sherrin and family friend David Ayres will steer the #19 Sherrin Rentals Racing BMW135i with the support of their dedicated crew.
As the outright winners in 2015 the #18 will have a target on its back from all the field, but one entry in particular will be looking to make sure they don't taste glory at the opening round – their Class B competitors Steve Hodges and Rob Coulthard, who will campaign a Holden VY CSV Monaro Mondo at Phillip Island.
Class C (Performance) is another set to feature very competitive racing, with both Osborne Motorsport Renault Meganes returning for 2016 alongside Francois Jouy/Franck Donniaux Network Clothing Renault Megane R265, as well as the Karadimas Motorsport Ford Falcon XR6 Turbo – which over the off-season has been upgraded to the latest Sprint package specifications. That means bigger brakes on the front and rear, a bigger turbo, bigger intercooler, more boost and much bigger wheels which should deliver a more competitive package overall for the likeable Victorian racer, who will be joined at the wheel this season by Geoff Russell – father of well-known racing identity David Russell.
Making Class C that little bit more interesting will be the fact that there will be a Ford versus Holden battle afoot, with Karadimas and his fellow Class C racers to take on the Holden VE Commodore of Hong Kong-based Aussie Troy Williams and his co-driver Rich Pham – co-owner of the successful Asian BlackArts Racing outfit.
In Class D (Production), reigning class champions Pedders Racing will be back on track, with Grant Phillips and Andrew Turpie taking the wheel of their popular Toyota 86 with the support of their Motorsports Training Australia student crew. They will be joined by Carly Black in the Network Clothing Renault Clio, while Declan Kirkham will team up with his father Phil in a Mazda MX6.
Fans would also be advised to keep an eye out for a Suzuki Swift invasion, with no less than four taking part in Class E (Compact) – Jamie Little; Jason Walsh and Paul Currie; Mitchell Naylor and Liegh Naylor; and Scott Gore, Keith Bensley and Patrick Galang will all campaign entries thanks to the popular 'arrive and drive' Suzuki Swift program that was launched by the APCS earlier this year in conjunction with GMC Motorsport Services.
Joining the Swifts in Class E will be another Declan Kirkham-run Mazda (a Mazda Eunos 30x) and also the development team entry of Lauren Gray Motorsport - which as the youngest ever pairing for the Series (with an aggregate age of just 31) has already attracted plenty of attention. Fifteen year old Liam Thompson will be joined by 16 year old Ellexandra Best in the LGM Toyota Echo in their APCS debut.
For more on the APCS, please visit https://www.facebook.com/AustralianProductionCars/ or contact Iain Sherrin of Ontic Sports on 0422 449 446 or at iain@onticsports.com.au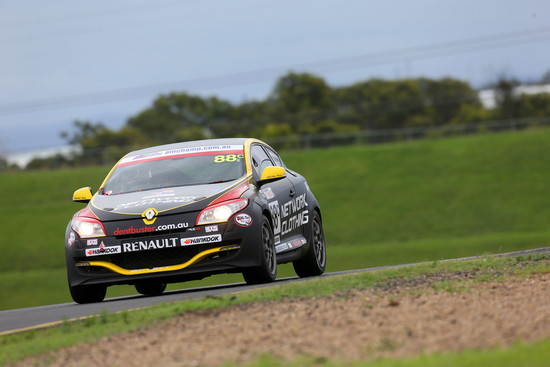 2016 AUSTRALIAN PRODUCTION CAR SERIES, ROUND ONE ENTRY LIST
As of COB 3 May, 2016
Entries close COB 9 May, 2016
Entrant – Vehicle – Class
Tony Alford and Stu Kostera – Donut King Audi TT RS – Class A
Beric Lynton – Alphera Financial Services BMWM1 – Class A
Mark Eddy and Dean Grant – Network Clothing Audi TT RS – Class A
Luke Searle, Barry Graham and Paul Morris – BMW M135i – Class A
Grant and Iain Sherrin – BMW135i – Class B
Michael Sherrin and David Ayres – BMW135i – Class B
Steve Hodges, Rob Coulthard – Holden VY CSV Monaro Mondo – Class B
Colin Osborne – Osborne Motorsport Renault Megane R275 – Class C
Colin Osborne – Osborne Motorsport Renault Megane R275 – Class C
Francois Jouy and Franck Donniaux – Network Clothing Renault Megane R265 – Class C
George Karadimas and Geoff Russell – Karadimas Motorsport Ford Falcon XR6 Turbo Sprint – Class C
Troy Williams and Rich Pham – BlackArts Racing Holden VE Commodore – Class C
Grant Phillips and Andrew Turpie – Pedders Racing Toyota 86 – Class D
Carly Black – Network Clothing Renault Clio – Class D
Declan Kirkham and Phil Kirkham – Mazda MX6 – Class D
Jamie Little – Suzuki Swift – Class E
Jason Walsh and Paul Currie – Suzuki Swift – Class E
Mitchell Naylor and Leigh Naylor – Suzuki Swift – Class E
Scott Gore, Keith Bensley and Patrick Galang – Suzuki Swift – Class E
Decklan Kirkham – Mazda Eunos 30X – Class E
Liam Thompson and Ellexandra Best – Lauren Gray Motorsport Toyota Echo – class E
For media enquiries, please contact:
Amanda Jackson
Media Manager – Australian Production Car Series
Phone: 0421 378 789
Email: amanda@jigsawcomms.com.au